As you start to live more sustainably you will be spending more time outdoors. And in the winter it can be tough. Getting or cutting firewood, tending livestock, taking care of the orchards or greenhouse – all of these activities mean you'll be outside, in the cold.
Here are my three best tips for staying warm and toasty during the winter months:
Cold-Busting Tip #1:   Wrap Your Neck! 
Your neck radiates more heat than any other area. The head and feet are next on the list, but really, your neck is the most important area to keep warm. In my backpack (which serves as a purse), I keep a neck wrap that I've used more times than I can count to keep warm during a cold front that sweeps in unexpectedly.
You know when you start to get that scratchy throat and start feeling just the edges of a cold or flu coming on?  I will wrap my neck at night while I sleep and have found it seems to nip that sore throat in the bud. I am no doctor, but my theory is that wrapping my neck creates a mini-fever in the area, which stops trouble before it can spread.
(Also, check out this article on treating fevers — and when not to.  The comments section on this particular article are especially amazing — click here to read).
Cold-Busting Tip #2:  Stay Hydrated! 
For some reason it seems harder to drink enough fluids when it is cold. But of the many signs of dehydration, getting a bit chilled is usually one of the first. (Some other signs are dry lips, dizziness when standing, and slower mental functioning). I find that making a quart of tea to sip on (from a mason jar) in the morning and then in the afternoon, helps me to drink more and keep track of how much I am drinking during the day.
I find my body hydrates better with a tea versus straight water. The Grandmothers were always drinking herbal teas that were nutritive and tonics. Good health is best achieved with gentle nudges and sipping tea is a great way to help the process. Wildcrafting or growing your own teas is so easy and I'll write about it in a future article.
Cold-Busting Tip #3: Prepare A Warm Space For Your Return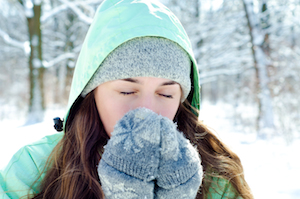 I picked up this tip when I got my permaculture certification more than a decade ago. It is a lot easier to go out and face the cold if you have a warm place to come back to. It doe
sn't have to be a large room, or the whole house. But knowing that, when you come back in, there will be somewhere warm gives you a psychological boost that I've relied on for so many years that I don't think about going out without setting this up first.
Before you dress up and head out throw a few logs on the fire and set flue so you'll have a warm spot to come back to. If you are not heating with wood, perhaps you might run a tiny heater in a small room to have a 'warm area' to return to. It might as simple as the greenhouse that you setup and keep warm. But knowing you have a warm spot to come back to after working outside in the cold is vitally important. And you never know. If you have an accident outside, having a warm space to return to during an emergency may be crucial to your survival.
Rate this article: